Mention Tampa Bay and most people from out of the area probably think beaches and vacations. However, the locals know that it's also a hot spot for brewing with a number of up and coming craft beer breweries. Here's my favorites: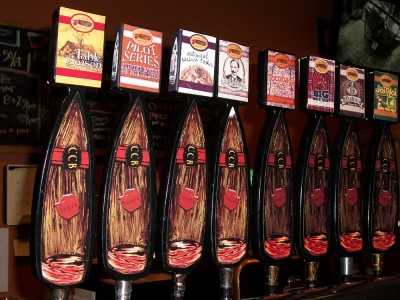 Cigar City Brewing
Cigar City Brewing is an up and coming brewery on the national scene and probably the most well known brewery in Tampa. They're known for their Jai Alai IPA, Maduro Brown Ale and a delicious concoction called Cubano-Style Espresso Brown Ale, but the fun doesn't stop there. They have this mouth watering habit of taking different flavors, spices and often fruit and mixing it with traditional beer styles with amazing tasting results. Stop by their tasting room, take a tour of the brewery and try one of their beers. The tasting room always has their regular offerings, plus small batch brews that are often just in the testing phase.
Cold Storage Craft Brewery
As Tampa's "youngest local brewery" Cold Storage Craft Brewery just has three main offerings, but I have a feeling that it won't be long before we see more from them. Right now you can try their Florida Avenue Ale, the Florida Avenue Blueberry (which makes great blueberry pancakes) and the Florida Avenue IPA. Right now, they have tours of their brewery about once a month.
Dunedin Brewery
Dunedin Brewery is the oldest microbrewery in Florida. They bottle their beer, but might be better known for their brew pub where they serve their beer, delicious food and feature an entertaining mix of music. It was also the first place that I found a coffee beer. They have tours about every Thursday, Friday and Saturday at 5pm.
Saint Somewhere
If you like Belgian Style Ales, add the small batch brewery Saint Somewhere to your to do list. They beers are brewed using traditional ingredients and methods, including open fermentation which results in some truly funky (in a good way) beers. Their beers can be found all across the country. Plus, they just started doing tours of their brewing facilities. Check out their Facebook for updates on when you can take a tour.
Tampa Bay Brewing Company
Tampa Bay Brewing Company has been a fixture for good beers and food in Tampa since 1996. Until recently, you could only find their beer at the restaurant. However now you can find their Elephant Foot IPA in cans at beer stores and on draft at bars and restaurants in the area.
7venth Sun Brewery
The newest kid on the block, 7venth Sun Brewery just open earlier this month. They're open 5pm until midnight Wednesday through Friday and noon until midnight on Saturday and Sunday. They're located at 1012 Broadway in Dunedin.