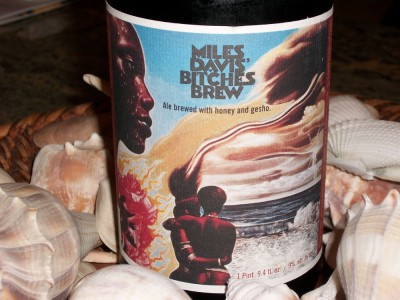 The Drink: Miles Davis' Bitches Brew from Dogfish Head
Type: Imperial Stout
ABV: 9% IBU: 38
Overall Rating: 4.75 Out Of 5 Pints
Last week, I reviewed Dogfish Head's 2011 collaboration with Sony Music Hellhound On My Ale, a tribute to blues artist Robert Johnson. This week, I'm taking a look at a beer called Bitches Brew, which honors the talented jazz musician Miles Davis.
I knew of Robert Johnson before I tried the Hellhound brew, but I wasn't a huge fan. Miles Davis on the other hand, I've been listening to since I stole my parents records (yes, they had vinyl) and listened to them on my dj turntables. The first album that I borrowed from them was Bitches Brew.
The liquid version of Bitches Brew is in honor of the 40th anniversary of the original release of the Bitches Brew album, a paradigm-shifting landmark fusion breakthrough. Dogfish Head describes the beer as their own Bitches Brew, a bold, dark beer that's a fusion of three threads imperial stout and one thread honey beer with gesho root, a gustatory analog to Miles' masterpiece.
The bottle features the album's iconic artwork, created by the late Mati Klarwein, on its label, Dogfish Head's Bitches Brew was unveiled at SAVOR, An American Craft Beer & Food Experience, June 5, 2010 at the National Building Museum, Washington DC. It was also featured on the television show Brew Masters on the Discovery channel.
My Bitches Brew experience started off good. This beer had an aroma that reminded me of a smooth stout combined with a mead.
In the taste department, things went even smoother. It's 9% alcohol, but I didn't pick up on any of it. It was a smooth, mellow sip. (Which may have been from it aging for about a year before I drank it.) It had a stout taste, but it felt like a much lighter beer. It had a honey flavor of mead around the edges and a hint of spices. It blended together perfectly on my tongue.
It wasn't exactly what I was expecting, but with something shares the name with this legendary jazz album, I guess that I can't be too surprised that it didn't follow any of the rules. Overall, it earned a 4.75 on the Passion For The Pint scale. It's the kind of beer that I wish I could drink every day, but I felt lucky to just have had it once.
I swear at some point, I'll go back to reviewing some Dogfish Head beers, but I keep getting access to some of their best beers and I'm not about to turn a chance down to sample them.
—
Fine Print.