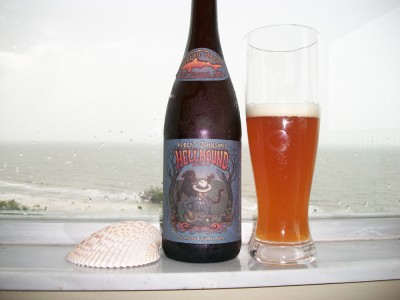 The Drink: Hellhound From Dogfish Head
Type: American Double/Imperial IPA
ABV: 10% IBU: 58
Overall Rating: 4 Out OF 5 Pints
When I went on vacation last week, I brought along a few of the rare beers that I've been saving for special occasions and what is better than a few days free from work, surrounded by the beach? One of the bottles that I brought along was Robert Johnson's Hellhound On My Ale from Dogfish Head.
The beer was brewed in honor of the 100th birthday of Mississippi Delta bluesman Robert Johnson. According to the legend, it was Johnson who sold his soul down at the crossroads in a midnight bargain and changed music forever.
The brew was their second collaboration with music label Sony Legacy, who they brewed their Miles Davis-inspired Bitches Brew with last year.
Hellhound is a super-hoppy ale that hits 100 IBUs in the brewhouse, 10.0 ABV, 10.0 SRM in color, and dry-hopped with 100% centennial hops at a rate of 100 kilos per 100 barrel brew-length. Can you tell we at Dogfish are stoked for this mighty musical centennial? To accentuate and magnify the citrusy notes of the centennial hops (and as a shout out to Robert Johnsons mentor Blind Lemon Jefferson) we add dried lemon peel and flesh to the whirlpool.
-Dogfish Head Description
Hellhound poured a golden copper color with just a mild head.
In the aroma department, my nose picked up on a sweet, malty flavor. There were hints of citrus and pine needle scent. All signs were pointing towards a delicious, although big IPA.
And I wasn't misled by the aroma. The taste was delicious and it was a huge IPA. It starts off with a distinctive hoppy flavor. It was bitter and tasted like it was brewed with a ton or two of hops and a bunch of lemons. That was followed up by a malty flavor and a lemon after taste finished it up.
It was a strong, heavy beer with loads of flavor, but not too much alcohol flavor. At least that's what I thought, my girlfriend on the other hand who is often more neutral said that there was a distinctive alcohol taste.
Either way, I thought it was a good beer and hopefully worthy of Robert Johnson's legacy. It earned an above average 4 pints on the Passion For The Pint Rating scale. If you can find a bottle of Hellhound still around and like big IPA's, this is one worth checking out.
—
Fine Print.