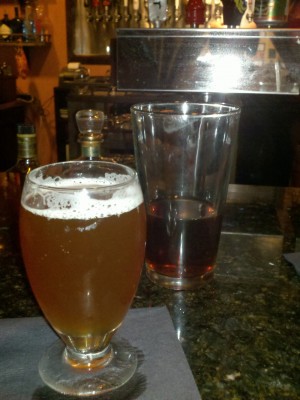 This isn't really a full review, I just wanted to share my Dogfish Head 120 Minute experience. It really wasn't an experience. Since word got out that there was a new batch of 120 Minute released, I searched high and low through all of the craft beer stores in the Tampa Bay area without any luck. I heard stories about stores that got just one case, bars that got just one keg and of course I heard all of this after the beer was long gone. Then my luck changed, Datz, one of my favorite restaurants in Tampa was going to have have a keg on tap. I cleared my schedule and made sure that I had a seat at the bar for the release. And thirty-three minutes after it was tapped, the keg of 120 was gone. Luckily, I got 8 ounces of the brew.
It was worth the wait. It was my first time tasting 120 Minute and it was better than I expected. I'm a fan of the 60 and 90 minute brews and as far as the taste piney IPA taste, the 120 Minute was along the same lines, maybe a little bit more hoppy and slightly more bitterness. The real difference was in the maltyness, the 120 minute was significantly more sweeter. And as far as the 18% alcohol, it was definitely there, but it wasn't as much alcohol as I expected.
If you spot a bottle or hear of a 120 Minute keg, don't hesitate to shell out some money, it's definitely worth the $10 (and up) price tag.