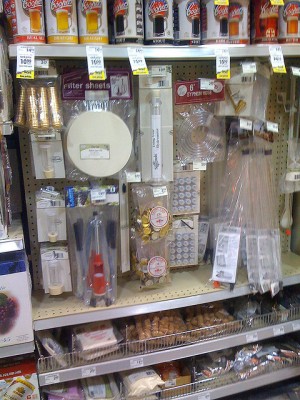 Yesterday, I talked about the homebrewing equipment that you'll need to make your first batch of beer. Today, I have a few suggestions at to where you can get that equipment. There's really two places where you can get home brewing equipment – your local home brewing shop (lbhs) or thanks to the internet at home brewing shop across the country.
I'm fortunate to have three home brewing shops within a relatively short drive. One is half beer, half wine and the selection is okay. The other, is the same place that supplies many of the professional brewers in the area and I feel like a kid in a candy store every time I go there.
Going to the local home brewing shop is never a bad idea, if there's one local for you. They're usually staffed by knowledgeable people that are home brewers themselves and can help you get exactly what you need.
The only problem with my local home brewing shops is that that while they're all within driving range, they're all located on the complete opposite sides of the region from me. They're worth the drive whenever I have the time, but I buy 75% of my equipment from only home brew stores.
My favorite online home brewing stores are:
Midwest Homebrewing And Wine Making Supplies – My first stop whenever I need more equipment or a new recipe kit. They have some of the best prices that I've seen online or off.
Austin Homebrew Supply – They have lots of great equipment, but also a ton of recipe kits to choose from, but the delivery times can lag a bit because they are one of the most popular shops online.
Adventures In Homebrewing – I haven't tried these guys out yet, but they've been recommended to me a lot and I'm sure I'll be ordering from them soon.
I'll also throw in Amazon. I actually found my first home brewing kit there mainly because I had an Amazon gift card, but also because I wasn't sure which home brewing shops online were reputable and which weren't back then.
You can also make a lot of the equipment yourself, if you have the time, skills and patience…with a lot of emphasis on time.
—
Photo by litlnemo.