I've read a handful of books about home brewing, but there's nothing like watching someone actually doing it. It really…maybe literally completes the picture. I went looking for home brewing videos and found this online video course called Beer Easy.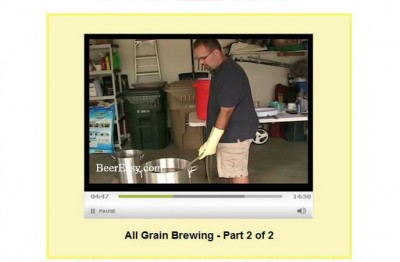 At first, I was a little turned off by the long sales page…you know those websites that stretch for miles with text and sales pitches…I wanted to hit the back button, but I scrolled down and when I saw that the course was only $7, I decided to stick around. Worse comes to worse, I would just ask for a refund.
Luckily, there was no need to ask for a refund. Beer Easy delivered exactly what I was looking for – an inside look at home brewing by an experienced brewer.
Justin, the guy behind Beer Easy created a series of videos where he invites you into his kitchen to watch him brew up a batch of beer. Over the next hour and a half (or so), he covers all the steps in home brewing up to the more advanced all grain brewing. It's pretty in-depth, where I found myself learning all sorts of tips and tricks, but it wasn't so long that I was going bored out of my mind.
Also included in Beer Easy are 11 of Justin's personal recipes, an ebook with 640 bonus recipes and checklists so that you can follow along on brew day and make sure that you're doing everything right.
He says that the course is valued at $697. I wouldn't pay that much, but after watching the videos, I do think the $69.95 regular price is fair. The $7 sale price is a steal.
But enough of me telling you about it, why don't you check out his Beer Easy site and I'll let him fill you in on all of the details.
Have you watched any videos about home brewing? What ones can you recommend?