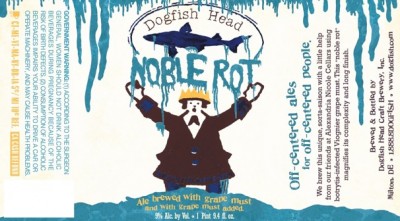 I was browsing through my beer reading today and a couple articles came up about one of Dogfish Head's newest beers, Noble Rot. There was a beer review and on the Washington Post an article called Dogfish's Noble Rot blurs line between wine and beer. I know that Dogfish Head gets all of the attention, but usually they can back it up.
Luckily, my fiancee loves craft beer, but I know that a lot of craft beer fans that have significant other's that don't drink beer. I think this could be a beer that convinces a lot of non-beer drinkers to see what can be done with beer.
This is another beer that I want to try (and hopefully soon.) Of course, I'll do a review of it when I do find a bottle. Have you tried it? What did you think?