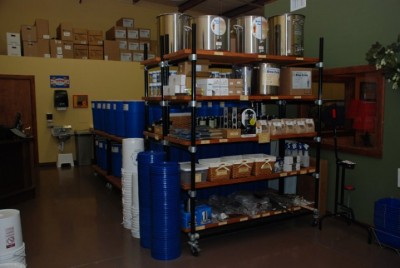 Not too long ago I was asked what are the best homebrewing shops in the Tampa area. I thought I would share my response with everyone. I wouldn't say that there is a best, each has it's pros and cons, but there is one that I have an unfair bias towards.
Beer And Winemaker's Pantry (Pinellas Park)
Beer And Winemaker's Pantry is a small shop, focusing a lot on wine, but it has a lot of the core equipment and ingredients that a homebrewer could need. I find myself going here a lot to pick up last minute things like bottle caps, when I don't have the time to stop at Southern Brewing (see below) or shop online.
1-727-546-9117
9200 66th Street North, Pinellas Park, Fl 33782
Booth's Brewing & Bar Supply (Brandon)
Booth's Brewing is the only shop on the list that I haven't personally visited myself. However, I've heard from homebrewing friends that I trust, that it's a great shop that has a wide selection of equipment, ingredients and a knowledgeable staff. I will be making a trip over there sooner, rather than later, to check it out.
813-685-1909
333 Falkenburg Rd. N. B-223, Tampa, FL 33619
Southern Brewing (Tampa)
And last but not least is Southern Homebrewing. Hands down it's my favorite brew supply store in the Tampa area. They have a very friendly staff, wide variety of ingredients and supplies. They also have homebrewing classes if you're looking to get into homebrewing and don't know where to start. (Side note, they are in the process of moving so call ahead to confirm their location before you make the drive.)
Tel: (813) 374-2174
1717 E. Busch Blvd, Suite 805, Tampa, FL 33612
(Located in the Busch Industrial Center, behind the Amscot)
If you're not in the Tampa Bay area, or even if you are, a little later this week, I'll go over the best online homebrew supply shops that I've purchased equipment or ingredients from.
—
Photo courtesy of Southern Brewing.