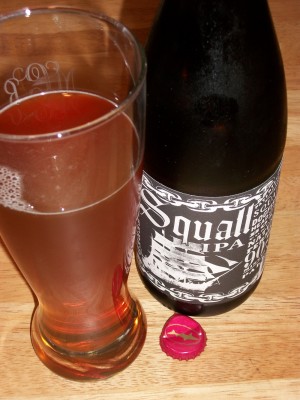 The Drink: Squall IPA From Dogfish Head
Type: Imperial IPA
ABV: 9%
Overall Rating: 3.75 Of Out Of 5 Pint Glasses
I've been drinking a lot of saisons and pilsners, but when I saw Dogfish Head's Squall IPA, I couldn't resist picking up 750 ml bottle.
Dogfish Head describes Squall IPA is an unfiltered, 100% bottle-conditioned, super-pungent imperial I.P.A. clocking in at 9% ABV and dry-hopped with Palisade, Amarillo, Simcoe, Cascade, CTZ, and Willamette hops.
Squall IPA starts out with a light head and a cooper color. I saw some photos of previous years and it looks a slightly lighter.
I knew I was going to like this beer as soon as I took one sniff. It had a sweetness that mixed with the distinctive pine needle aroma that goes with hops.
It got even better with the taste. It was bitter on the front end and sweet in the back. Besides the distinctive hoppy taste, I picked up on caramel and grapefruit that combined for an awesome sip.
Squall IPA reminds me of their 90 Minute IPA. It tastes like a 90 Minute with more hops and a bigger taste. I would even go as far as to say that it's based on the 90 Minute, but I couldn't find any information online that confirmed it.
It might be the middle of summer, when most people are drinking lighter beers, but this is a good beer year round. It earned an above average 3.75 on the Passion For The Pint scale.
If you want to learn about homebrewing, make sure to check our free hombrewing eCourse.
—
Fine Print.