Before I started homebrewing, I spent way too long long searching the internet for the perfect home brew kit to get me started. Way too long! There's hundreds, maybe thousands of homebrew kits that would've worked, but I was hell bent on finding the perfect one.
To avoid you spending hour and hours wandering around the internet for the perfect starter equipment and all of the supplies you need, I put together a few of the ones that I know recommend to anyone asking me for a suggestion on which one they should start out with.
Personal Home Brewery #1 from More Beer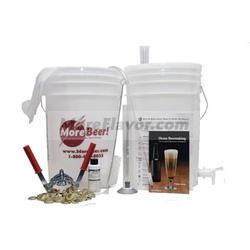 This bare bones kits allows you to get started homebrewing without breaking your budget. Plus, the system is designed to be easily upgradeable if you decide you want to really get into homebrewing.
This system has two, food-grade plastic buckets that come with spigots mounted at their bottoms for quick and easy liquid-transfers. First you ferment in one bucket for two weeks (time varies depending on the recipes), then transfer the beer into the second bucket at bottling time.
This kit comes with all of the basic stuff that you'll need, except a 5 gallon brewing pot and beer bottles.
Summary of Benefits:
Very affordable, entry-level system
No siphoning hassle required
It is easier to lift buckets than glass carboys
No chance of breakage
Better for shipping outside of the country because of less weight and less breakage
Price: $69.00 (Product is part of their Free shipping Program, details on their website)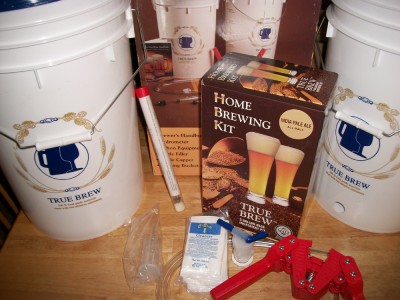 Basic Home Brew Beer Brewing Kit with 5-gallon India Pale Ale (IPA) Beer Ingredients Included (This is the one I started out with.)
This kit is a little bit more expensive, but comes with more equipment and a recipe kit so you can brew an IPA. This kit comes with a a 6.5 gallong food grade plastic bucket with a sealable, gasketed lid. Other items included in this kit are 6.5 gallon fermenting bucket with drilled and grommeted lid, 6.5 gallon bottling bucket with dispensing spigot, Plastic Fermentation lock, Siphon Tubing, Bottle Filler, Bottle Brush, Auto Siphon, Bottle Capper, Hydrometer, Cleanser, 5-gallon ingredient kit (includes malt, hops, yeast, instructions, bottle caps, and priming sugar and yields approximately 53 12oz beers).
Price: $99 plus shipping.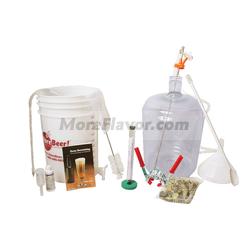 Personal Home Brewery #2 – Deluxe From More Beer (This is the one I would buy if I was just starting out now.)
The deluxe version of the Home Brewery from More Beer is the same as their Personal Home Brewery #1, except that this one doesn't have the plastic fermenting bucket, instead it has a plastic carboy and a siphon setup for only $30 more. The plastic carboy is lighter than traditional glass carboys, safer, and will not break.
According to the More Beer people, the vast majority of beginning home brewers choose this kit over their basic kit #1 because it's clear, so you can see the yeast "working" during fermentation. Since it's a plastic carboy, it's lighter to move than a glass carboy and, which is safer and convenient.
As with their Home Brewery Kit #1, you will also need 5 gallon brew kettle, glass beer bottles and an extract beer recipe kit.
Summary of Benefits:
Plastic Carboy fermenter will last longer than plastic buckets and has 99% zero oxygen permeability
Plastic Carboys are lighter than glass and will not break
You can watch the magic of fermentation
Save money now by not having to upgrade in the future
Price: $109.00 (Product is part of their Free shipping Program, details on their website)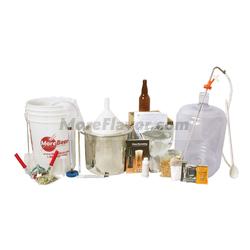 Personal Home Brewery #3 from More Beer – Bottling Deluxe
If you want to get everything (and I do mean everything) that you need to get started brewing, this is the kit for you. The personal home brewery #3 includes a stainless steel kettle (with a five year warranty). There's a hand-held probe thermometer, which eliminates the need to borrow one from the kitchen. The Beer Ingredient Kit is Light Ale, an excellent beginning brew. They describe it as light in color, but not in flavor, it always appeals to both domestic and microbrew loving beer fans.
This is their best selling Home Brewery system because you can order it today and in a week or so begin brewing as soon as it's dropped off at your door.
Note: This kit does not include a bucket lid. They recommend using foil or saran wrap to cover your bucket during the bottling process.
Price: $215.00 (Product is part of their Free shipping Program, details on their website)
—
Please note, that the links in the above article is what they call affiliate links. That means that I would get a small commission (that helps keep PassionForThePint.Com running), however I only link to sites that I trust and have shopped from myself.