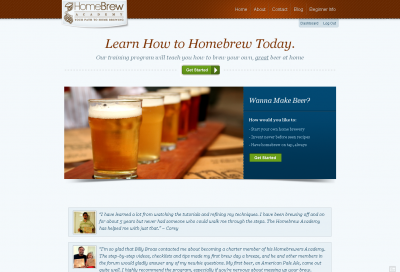 Homebrewing is an awesome hobby, that results in awesome tasting beers and sometimes careers in making beer. However, when you're a new brewer (or even if you've been brewing for a while now), it can be confusing, overwhelming and stressful sometimes. There's a lot of technical stuff to learn and lots of things that can go wrong.
That's why I'm glad that Billy Broas created the Homebrew Academy to help out people new to the hobby (and people that have been brewing for a while too). Homebrew Academy is a video course with text and infographics to help you get started brewing, or refining your homebrewing process if you've already started.
The Homebrew Academy is broken down into two levels, there's the beginner "Just Get Brewing" section and the more advanced "Go Brewmaster."
Just Get Brewing includes:
New brewer equipment & ingredient list
Brew Day training videos
Fermentation tips & troubleshooting
"When to Bottle" flowchart
Bottling Day training videos
Forum access to ask questions
Go Brewmaster includes:
Complete Guide to Kegging
Partial Mash brewing
5 techniques for improving extract beer
Hop, malt, and yeast guides
Brewing term glossary
How to create recipes (with examples)
Advanced fermentation techniques
Snapshot guides for 15 popular beer styles
Much more – plus we're always adding lessons
Forum access to ask questions
For $20 you can get access to the beginners section, for $40 the advanced and just ten more dollars ($50) for the entire course.
Back in late December, I joined the Homebrew Academy and I thought it would take a week or two to go through the course load, but it ended up taking closer to a month to fully digest all of the materials. I also thought it would just be a great course for beginners and I didn't think that I would pick up more than a couple of things. Instead I found myself learning a lot more than just a a couple of minor tweaks to my brewing process.
Even in the beginner section, I was picking up some tips and tricks to improve my homebrewing. They're simple things like leaving the lid off the brew pot when it's in an ice bath so that it cools down faster, but it's the type of things you don't pick up from just reading a book on homebrewing. The video course really made it easy to see his brewing technique and learn from it.
One of my favorite tips in the beginner section was how to clean the pesky hop and grain bags. I know a lot of advanced brewers that just throw them out when they're done with them, but Billy had a simple solution to clean them (just rinse them out, soak with Oxiclean, rinse again then reuse).
In the advanced training areas, the Homebrew Academy goes into more depth about things that I had to learn the hard way when I was starting out. There's a video about how to take proper notes (with a template), that includes why you would actually want to take proper notes. There's a section on how to take hydrometer readings, which can be a pain to use until you understand how to read it and adjust the results with the temperature.
My two favorite sections where about terms that I had heard about, even read about, were steeping small and washing yeast, but really I didn't understand them until Billy broke them down and explained them. In case you were curious, washing yeast is a process that you can do so that you can resuse your yeast, something that pro-brewers do at their breweries. Steeping small is not steeping your grains in the full volume of water, just a limited amount so that you get optimal flavors from them. If you want a more in depth answer, I'm going to have to send you in the direction of Billy for it.
Overall, I think beginners and intermediate brewers could use the Homebrew Academy to improve their beer. You might just want to do the beginner or the advanced levels, but I would suggest going through both courses to get a full picture and to improve your beer on many levels. It's one of those cases, that I think you'll taste the difference.
On a side note, the links to the Homebrew Academy in this article are my "affiliate links" and I do get a small commission if you join via the links. The commission goes to keep Passion For The Pint running, but the opinions are mine and are not based on any commission. If the course sucked, I would let you know, luckily I enjoyed it.