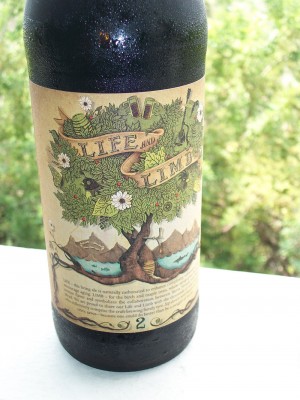 The Drink: Life And Limb 2 From Dogfish Head and Sierra Nevada
Type: Strong American Ale
ABV: 10.2% IBU: 50
Overall Rating: 3.75 Out Of 5 Pints
Like many people, Sierra Nevada was one of the first craft beer companies that I ran into. And also like many people, once I really got into craft beer, I gravitated towards Dogfish Head. When I saw that two of my favorite breweries were doing a collaboration, of course I had to pick up a bottle of Life And Limb 2.
The beer is made with a yeast from both breweries, brewed with maple syrup and bottle conditioned and natural carbonated with birch syrup. The beer defies style characteristics, so I really didn't know what I was getting into, but I couldn't wait to get into it. And even though they say the beer could age well for years, I couldn't wait that long to sample it.
The aroma was pleasant, but nothing to write home about it. It had a sweet scent to it that was loaded with fruit. The fruit reminded me of apples.
However, the taste was something that got my attention. It tasted like a combination of some of my favorite Dogfish Head and Sierra Nevada beers, all in one beer. It looked (heavy, dark) and tasted more like a Dogfish Head beer at first. It was heavy and strong, but then the hoppiness of Sierra Nevada came out in the after taste. It had a malty (reminded me of maple syrup) flavor with strong hints of citrus.
The beer does have a 10.2% ABV, however at first I couldn't taste any of the alcohol. Then wait, it came out as it warmed up.
Overall, Life and Limb 2 earned an above average 3.75 on the Passion For The Pint scale. Pick up a bottle if you see one while you're out shopping.
—
Fine Print.