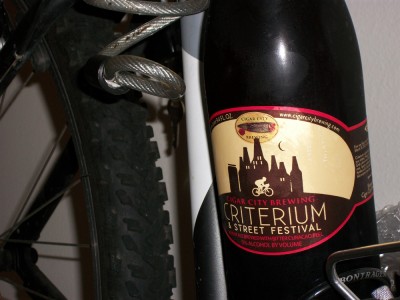 The Drink: Criterium Ale From Cigar City Brewing
Type: Wheat Beer
ABV: 5%
This is half beer review of the Criterium Ale from Cigary City Brewing, half to make sure everyone knows about the Cigar City Brewing Criterium & Street Festival.
The Cigar City Brewing Criterium & Street Festival is a full day of events with a bike race in downtown Tampa. I love the bike, but I'm more interested in the beer and food trucks that'll be there. Apparently the world's longest bar will even be there. I'm not sure what that is, but I can't wait to find out!
To celebrate the race and festival, Cigary City brews a special beer ever year. This year's Criterium Ale is a wheat beer with bitter curacao peel added. It has hops from New Zealand and Australian hop varietals – Motueka, Galaxy and Pacifica.
Last night, I was able to try the Criterium Ale.
It poured an orangish, yellow color with a nice white head. It was the kind of beer that just looked refreshing.
It did have the wheat beer flavor, but it wasn't just another what beer. There was the orange citrus that brought out a bit of tartness, a bunch of hop bitterness and a malty sweetness that rounded it out.
It's full of flavor, but still light and refreshing, the perfect kind of beer for an outdoor festival with bike racing through the middle of it.
—
Fine Print.