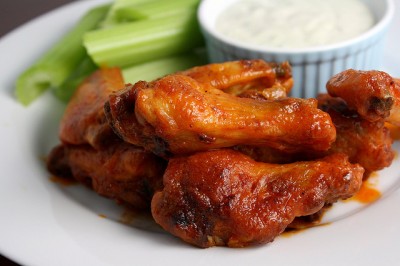 Hot Sunday afternoons were made for hanging out with friends, noshing and drinking beer. Whether you're grazing or serving a full meal, Beer-Marinated Buffalo Wings and Crabby Beer dip will satisfy your guests, especially if you pair them with ice-cold fine beer. These two appetizers make great partners, but they're equally delicious when served alone.
Beer-Marinated Buffalo Wings
Who doesn't love tasty little bits of chicken-y heaven? These wings are a snap to make. You can do everything ahead of time, so all you have to do is pop them in the oven about a half hour before your guests arrive.
Ingredients
3 pounds chicken wings (about 18 to 20)
1/4 cup olive oil
1/2 cups  lager or pale
1/4 cup soy sauce
1/8 cup freshly squeezed lemon juice
1/2 teaspoon salt
1/4 teaspoon freshly ground black pepper
1/8 teaspoon ginger
1 clove garlic, minced
Directions
Rinse the chicken wings and drain them paper towels.
Combine the remaining ingredients in a small bowl and blend well.
Put the wings into a large plastic bag and pour the marinade over them, ensuring all the pieces are coated completely. Refrigerate overnight.
Preheat the oven to 350º.
Put the chicken wings into a roasting pan, skin-side up. Throw away the extra marinade.
Bake the wings for about 1 hour, until the wings are cooked through.
Serve these tasty little wings with barbecue sauce, gyoza dipping sauce or ranch or blue cheese dressing.
Crabby Beer Dip
Although this dip is tastiest when you make it with fresh crab meat, it's still quite delicious when you make it with canned lump crap. Just make sure you don't use the fake stuff! You can make it the night before or the day of the party. It needs to chill for at least a few hours.
Ingredients
16 ounces cream cheese, softened
1/2 cup lager or pale ale
1 pound lump fresh crab meat, rinsed and drained
2 green onions, finely chopped
1/2 tablespoon parsley, finely chopped
2 to 3 cloves garlic, minced or pressed
1 teaspoon Worcestershire sauce
1/2 teaspoon cayenne pepper
1/4 tablespoon freshly squeezed lemon juice
Directions
Combine softened cream cheese with beer.
Add onion, parsley, garlic, Worcestershire Sauce, cayenne pepper and lemon juice. Mix thoroughly.
Break crab into small pieces and add to the sauce. Mix thoroughly.
Serve cold with carrots, chips, crackers or pita bread.
As delicious as these appetizers are, nothing will save your party if you serve beer in a can. Look up "beer club reviews" to find a quality bottles of rare brew.
—
Photo by esimpraim.