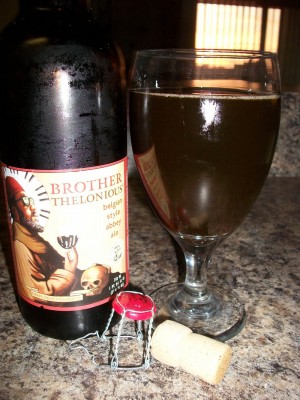 The Drink: Brother Thelonious From North Coast Brewing
Type: Belgian Style Abbey Ale
ABV: 9.3% IBU: 32
Overall Rating: 3.5 Out Of 5 Pints
I'm not going to lie, I bought Brother Thelonious because I'm a fan of the jazz pianist Thelonious Monk and it features him right on the label. It was just bonus that it came from North Coast Brewing, a brewing company that I had heard a lot about but never had the opportunity to try. The tasting notes on the price tag were probably what I looked at after I already had the bottle of in my hand.
When I poured the Brother Thelonious, I wasn't so sure that I had picked up a beer and not wine. It has a grape/wine like color, with almost no head and even the aroma was sweet and reminded me of grape juice.
Also in the aroma citrus flavor and hints of what reminded me of Sprite and rock candy.
The first thing I noticed after taking a sip, was the soda feel on my tongue, it carbonated, like the bubbles were just popping off my tongue. So now, it was starting to seem more like a soda. It even had a soda like taste, with grape flavor. I picked up hints of candy in the taste too.
Brother Thelonious is definitely a "big beer" at 9.3% alcohol, but the alcohol flavor wasn't overwhelming. I'd say that there was only a hint of alcohol flavor to it, until it started to warm up.
Overall, I liked Brother Thelonious from North Coast Brewing. It earned an above average rating of 3.5 on the Passion For The Pint scale. It wasn't life changing, but it was a good beer and I look forward to trying more from North Coast Brewing.
Now if you excuse me, I have to go find Thelonious Monk on Pandora.
—
Fine Print.