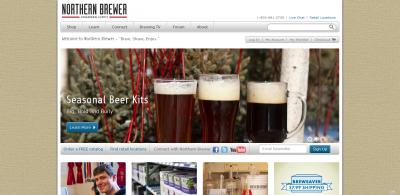 There's a lot of reasons to shop online for your homebrewing equipment and supplies. Maybe there isn't a local home brew shop near where you live. Or maybe it's that a lot of the online homebrew shops have more variety and better prices.
I usually shop online when I'm feeling lazy and don't want to make the trek (and it is a trek through obscene amounts of traffic) or if the local homebrew shops don't have the exact piece of equipment I need or the ingredient that I'm looking for.
Here's a few of the online homebrew shops that I've purchased beer making supplies from:
They have a lot of equipment and a lot of ingredients for making beer. It's one of my favorite places to buy recipe kits from because of the large selection that they have (including a lot of great clone recipes) and their sale prices.
This is probably where I've spent the most money online in the last year. They have great prices and some of the best tasting recipe kits that I've found. Make sure you check out the reviews of the recipe kits because there's always tweaks that other homebrews have left that can lead to a better tasting beer.
So far, I've just purchased a couple of recipe kits from Northern Brewer so I don't know too much about them, but what I do know, I like a lot. Their breakfast stout, ended up being one of my favorite beers this winter. I'll be checking them next time I buy ingredients online.
I haven't actually shopped at More Beer yet. However, I've been told to check it out from multiple sources. When I do make a purchase with them, I'll be sure to give my thoughts on their store.