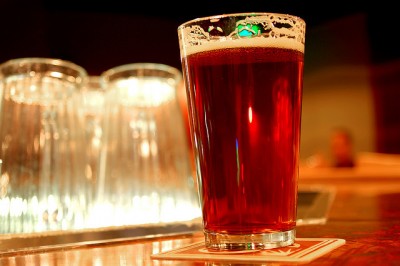 Over at my coffee blog, I do a weekly round up of all of the coffee blogs called Fresh Brews. I thought it would be fun to do the same over here, although it does need a better name than beer blog roundup. Hopefully, some sort of inspiration will strike me before next week.
Anyways, this week's round up features a review of an awesome beer from my neck of the woods, a look at some really cool bottles and two mouth watering recipes that are under the influence of beer.
Beer #130 – Pays du Soleil by Saint Somewhere Brewing Company
Over at 365 Days Of Beer, KingBob takes a look at Pays du Soleil, one of the beers I also reviewed over here last week. I love talking about, or in this case reading about what other people taste and smell in the same beer. It's fun to see what we both detect and what things he found that I didn't, etc.
Pimp Your Stout (A Survey Of Cool Bottles)
Jeff shares some of the "coolest" bottles out there, some just have great designs, others would be perfect for home brewing. Odd that none of the bottles included that vortex silliness.
Beer Pan Sauce for an Incredible Steak
In the first of two recipes featured this week, Billy shares a simple, but delicious looking beer-steak recipe that I'm going to be trying for myself very shortly.
Garlic Butter Soft Grain Pretzels: A Delicious Way to Recycle your Grain!
I have a weakness for pretzels and this sounds like a great way to re-ruse the grain by-product from home brewing.
My stomach is growling now and I'm craving a beer, so I'll see you tomorrow.
—
Photo by mfajardo.