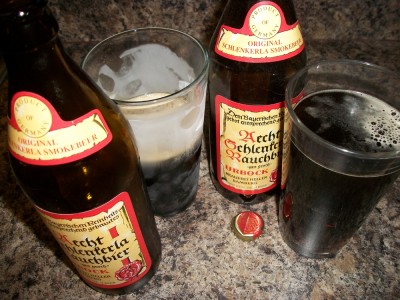 The Drink: Aecht Schlenkerla Rauchbier Urbock
Type: Smoked Beer (Rauchbier)
ABV: 5.1% IBU: 30
Overall Rating: 4 Out Of 5 Pints
Anytime I stop by a new craft beer store or venture to a new tavern, there's two types of beer that I'm always looking for first – sour and smoked beers.
Aecht Schlenkerla Rauchbier Urbock is a smoked beer. In German the name means original smoked beer and the beer is still served directly from a wooden barrel, the same tavern where it was first served in 1405. Note to self, definitely want to visit there at some point!
The Urbock is brewed summer, matured for months in their ancient Schlenkerla rock-cellars underneath Bamberg, the city where the beer is brewed. The beer is brewed for Bamberg's strong beer season (October through December) in fall.
Aecht Schlenkerla Rauchbier Urbock pours a dark brown, almost black color.
The aroma is delicious, a smokey, greasy aroma with hints of bacon that make my mouth water.
It was smooth across my tongue, with just a mild bitterness in the middle.
It has this taste that I can't forget. It's like a beer that has bacon grease poured into it. It has a smokiness around the edges that lingers on my tastebuds.
It's a full bodied beer, it's a big beer, loaded with taste, without having too much of an alcohol taste.
Overall, Aecht Schlenkerla Rauchbier Urbock earned an above average four on the Passion For The Pint scale. It's not really the type of beer that I could drink every day, but I wouldn't mind being forced to do that. Hands down, it's one of my favorite smoked beers.
What's your favorite smoked beer?
—
Fine Print.