Passion For The Pint is dedicated to helping novice and beginner homebrewers make their own beer, with a few craft beer reviews thrown in for good measure.
Here you can find lots and lots of how to articles, tips and other articles designed to help making homebrewing easier and your beer taste better. You won't find many articles about all-grain brewing, there are plenty of great blogs that write about advanced topics. For now, we're sticking to the entry level aspects of homebrewing, making that first beer come out great and making quality brews with extract brewing.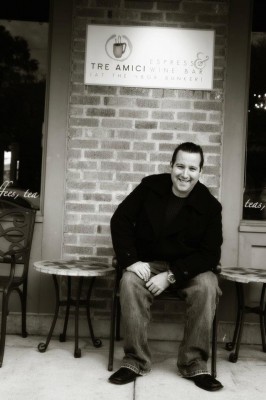 About Me
My name is Michael Ryan and I'm the slightly buzzed blogger in charge of Passion For the Pint. I love writing about my favorite hobby, brewing beer at home and sharing some of the best craft beers that I come across.
Not too long ago, I felt overwhelmed by all of the technical aspects and jargon of home brewing. With every beer I brewed, I was worried that I was making fatal mistakes that would end with me dumping my beer. I spent hours and hours online researching, read more than a few books about home brewing and experienced some trial and error to get to where I am now.
My Beer History
Until recently, my beer history really wasn't anything to write home about:
I had my first sip of beer on a football Sunday when I was about six or seven years old. I snuck in a sip of my dad's Coors when he left the room for a few minutes. I didn't really understand why adults liked this beer thing so much.
In high school, my friends and I bought forties from the ghetto convenience store that sold beer to anyone. It didn't taste great and my hangover the next morning was even worse.
College wasn't much better. I really didn't care what beer I was drinking. I cared more about getting drunk…for cheap. I did visit a couple of local microbreweries in between doing keg stands and drinking beer out of a funnel, however I can't say that I really remember anything about their beer.
Some time after I graduated college, I realized I wanted something better than Bud or Natty Ice. I switched to Heineken and New Castle, but they weren't really much better. I did find some craft beers here and there, however I had no idea that there was this whole craft beer world out there.
It wasn't until my awesome girlfriend bought me the Naked Pint that I really started getting into craft beers and understanding that Bud Light and Coors were the beer equivalents of Folgers and Maxwell House.
After a few trips to some stores that carried craft beers, that I started to learn that like coffee, there were all types of premium beers. And like coffee, beers could have all sorts of aromas and tastes. I haven't stopped trying beers since then and it wasn't long after that I started to brew my own.
When I'm not blogging about beer, I'm probably working on my next batch of home brewed beer or drinking a craft beer while watching the Yankees play (You can hate me, but for the record, I'm originally from New York). I love to write and used have another blog over at Daily Shot Of Coffee.
I hope you follow along on this journey. I think it's going to be fun. I'm always hanging out on Facebook, Twitter and sharing what drinks I'm enjoying on Untappd. Come find me!